The all-important balance sheet: Looking at where you are now
A Statement of Financial Position, also known as the Balance Sheet, is a "snap shot" of your present financial situation. It creates the bottom line known as net worth. This figure can be used to measure the progress of your financial growth. It becomes your report card to see how well you're doing financially.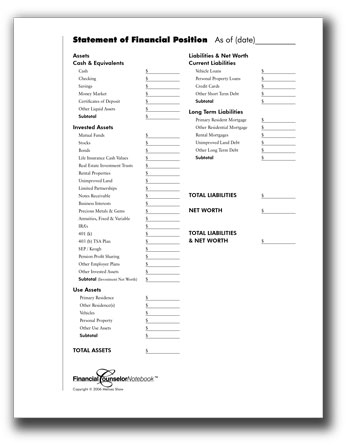 Every year you should prepare a Statement of Financial Position. If you're married, your anniversary is a good time to take note of the state of your union.
It's rewarding to see your growth. It feels good to see that you are making good decisions. The future is brighter when you can see where you're going.
In business, you are encouraged to clear your debt once a year. It's an interesting challenge for people too. This refers to short-term obligations and doesn't need to include the mortgage. There is empowerment in having control of your finances.
Click here to download your free balance sheet (printable PDF).